The Bat Specialists
Est 1990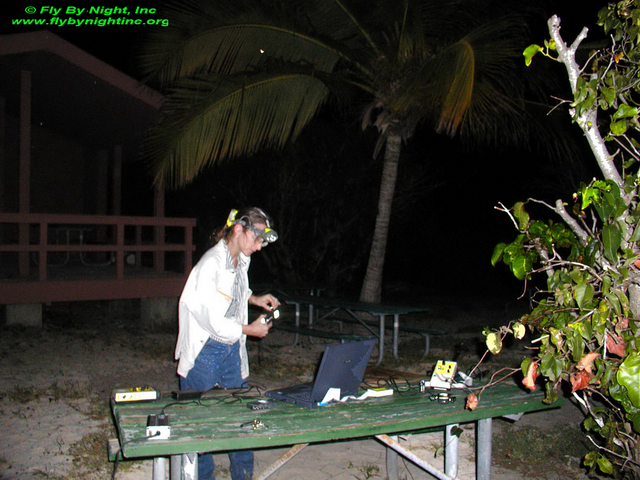 Background, Education and Training
Laura Seckbach Finn (LSF), the founder of Fly By Night, Inc. (FBN), first began working with bats in 1989. She received a Bachelors degree in Zoology (1989) and a Masters degree in Biology (1997) from the University of Central Florida. Her masters research concerned bats in buildings (urban bats) and the use of bat houses by central Florida bat species. The research focused on roost choice, preferred microclimate and bat house design == it was the first large scale bat house study in Florida (see BatHouses).
Laura was also the first to study the roosting and foraging activity of Southeastern big-eared bats Corynorhinue rafinesquii macrotus in Florida (see Research).
Thomas Finn (TGF) is a former high steel painter / sandblaster. He is a vested IUPATJourneyman (International Union of Painters and Allied Trades) and a master rigger. Tom is considered a specialist in the conservation and management of urban bats, roost mitigation and artificial habitat.
Together, they have dedicated their lives to the study, conservation and protection of bats. (since 1990).

Certificates and Awards
2009: Best of Osteen Award
2008: Best of Osteen Award
2004: Bat House Hall of Fame., Bat Conservation International (BCI) - NA Bat House Research Project (NABHRP)
2001: Distinguished Research Associate, Honorary Lifetime Status Award - BCI NABRP
1999: Distinguished Research Associate, Special Achievement Award - BCI NABRP
1997: University of Florida Sigma Xi Award
1996: Explorers Club Award: Best student paper - 60th FAS meeting
1987-2000: Annual Training Certifications for OSHA Hazard Awareness, Lead Abatement, etc. (Thomas Finn)
Professional Activities
2000-2005: Founder and Coordinator, Bats in Buildings Program (BIB) (a Bat Conservation International program)
2001: Co-chair, Florida Committee on Rare and Endangered Plants and Animals (FCREPA)
2000: Planning committee for 30th North American Symposium on Bat Research (NASBR) held in Miami, FL
2000: Organized and attended one-week Anabat Field Training led by expert Mike O'Farrell
1999 and 2000: Chair, FCREPA
1998: Co-Chair, FCREPA
1998: American Zoological Association Bat Taxon Advisory Group
1996: Bats in Buildings Workshop. IFAS, Gainesville, FL
1995: The Southeastern Bat Diversity Network (SBDN) (Laura was one of the founding members)
1993: Planning committee for 23rd NASBR held in Gainesville, FL
Other
JLA Clearance (August 2006 -per Jessica Lunsford Act)
USDA Level 2 Clearance
Rabies immunization

Need Help With Anything Bat Related?
Contact Us
Fly By Night, Inc. The Bat Specialists
P.O.Box 562
Osteen, FL 32764-0562
Phone: 407-414-2142
E-mail Us (laura*at*flybynightinc.org)